SnapEDA ECAD & MCAD Models Now on Semikart
SnapEDA ECAD & MCAD models are now on Semikart, an online marketplace for electronic components based in India. Engineers and designers that use Semikart can now easily access parts of more than 700 brands through SnapEDA's library of models.
Symbols and footprints can be downloaded all at once and are compatible with various ECAD & MCAD formats such as KiCad, Eagle, OrCad, PADS, Altium, Fusion 360, and many more.
About Semikart
Semikart, an electronic components online store based in India, carries circuit protectors, embedded solutions, engineering development tools, enclosures, passive components, sensors, semiconductors and industrial automation tools from brands such as Raspberry Pi, Schneider Electric, Rochester Electronics, Eaton, AVX, Bourns, Phoenix Contact, Panasonic, and many more.
The company was set up in Karnataka to promote small businesses and local production through the "Make in India" initiative, a program to turn the country into a global manufacturing hub. The company now supports tech incubation and offers design consultancy from concept to application.
Semikart and SnapEDA Partnership
To complement the user experience on the Semikart website, SnapEDA has made it more convenient to search for specific ECAD & MCAD models, download them in one batch, and then select the format that they prefer.
Engineers and product designers can therefore save a lot of time when creating their designs with this feature.
How to Download SnapEDA CAD Models
To download symbols, footprints and 3D models all at once, follow the steps below:
Step 1.
Go to the Semikart website.
Step 2.
Search for the part you need.

Step 3.
Click Footprint.

Step 4.
You will then be redirected to the SnapEDA webpage that features the CAD model. Click on the Download Symbol and Footprint button to start the download.
NOTE: Make sure that you have logged in to your SnapEDA account.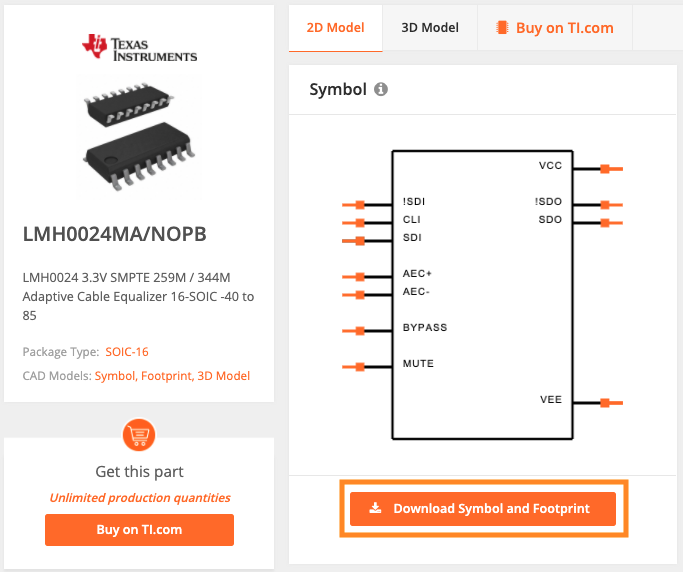 It's as simple as that! You've now downloaded the CAD model, saving you hours – or even days – of time.