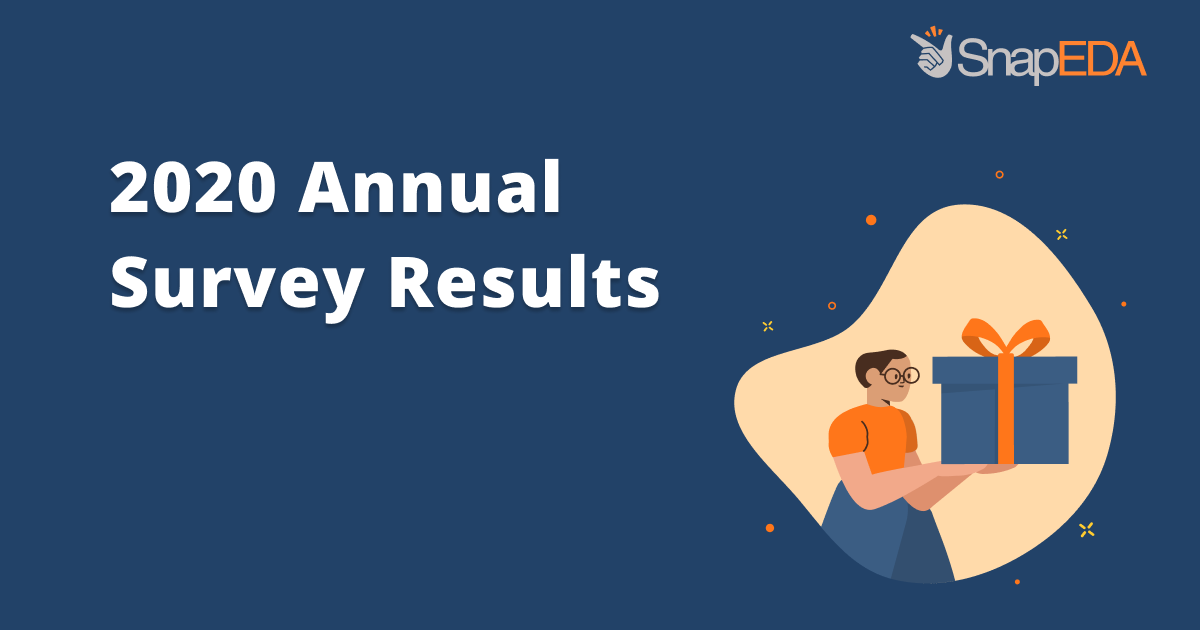 Our 2020 survey results are in
Thank you to everyone who completed our 2020 SnapEDA Survey.
Our team went through every single response (2,000+) from EEs & PCB designers around the world to understand what you want to see on SnapEDA, as well as pain points you face when using our product and in your overall design process.
We were inspired by your feedback, and while we can't promise everything (there were thousands of unique ideas), we identified key themes to focus on this fall.
In this post, we'll be addressing some of the top themes and feedback we received, and what we're doing (or have already done) to address them.
And – of course – we'll also share the winners of our draw!
Top Requests
More parts

It goes without saying that our community wants more parts. This included symbols and footprints – but more than ever – engineers want more 3D models on SnapEDA. Here is what we have done since the survey to address this:

Action Taken

We added new CAD models for over 400,000 parts, including 3D models for 187,000 parts. See highlights.

Next Steps


We are continually accelerating our pace of adding new parts. If you have a favorite supplier you'd like to see on SnapEDA, please let them know about us!

Better integration with your PCB design tool

We heard you loud and clear – you love SnapEDA but you wish it was directly integrated within your PCB design tool.

Action Taken
Next Steps

More formats are on their way!

Better handling of user & tool standards:


As we like to say here at SnapEDA: "Never discuss politics, religion, or PCB library standards in polite company." We admire the passion our community has for their libraries, and we know the only way we can please everyone in some cases is to give them more choices.

Next Steps

We're working on making SnapEDA more customized for you. We also want to hear your feedback about consistency with your tool. If you feel it's not consistent, please reach out and let us know.

 More Pricing & Availability


Many engineers said they wanted pricing to be more visible on SnapEDA.

Actions Taken

We added the Online Components inventory in September, along with existing inventory from Digi-Key, Mouser, Samtec, TE Connectivity, NVE and Arrow.

Next Steps

We have a surprise coming soon to help better connect you with distributors. 😉

3D models merged into footprints


Another top request was having the 3D model data merged directly into the PCB footprints.

Action Taken

This is now live for Altium footprints! 🎉

Next Steps

We will be adding new formats next
Interesting Things We Learned
In addition to the improvements above, we also learned some interesting things, some of which will be used to improve the standards we follow when creating CAD models. Notable insights:
77% of electronics designers now use 3D models in their designs
Many engineers prefer manufacturer-recommended footprints over IPC standards.
Engineers expressed a preference for symbol configurations that approximated the datasheet's application circuits, rather than a "logical" arrangement
Our community wants no connect (NC) pins on their schematic symbols
Features we already have

There were also requests in our survey for things that are already freely available on our website, notably:
And finally, congrats to our winners … (drumroll, please!)
Congrats to the winners of our draw who received a $100 gift card, electronics t-shirt, or InstaPart packages.
Tien Vu in France
Andy Lai in USA
Edwin Kestler in USA
Gustavo Franco in Brazil
Salami Abdullahi in Mayasia
Andrew Kotite in USA
Goran Wik in Sweden
Pandey Preeti
Closing off with some interesting requests
Before we wrap up, we thought we'd share some of the more interesting requests we loved, but can't promise anytime soon, unless we can solve teleportation:
Free cookies (we totally agree with you, by the way)
A pony
Irish whisky (again, we agree!)
Conclusion
Thank you to everyone again for your feedback. We've updated our Q4 roadmap to reflect the feedback we received from our community and we'll continue making SnapEDA a great place to help you design electronics faster.
For now, happy designing!
The SnapEDA Team