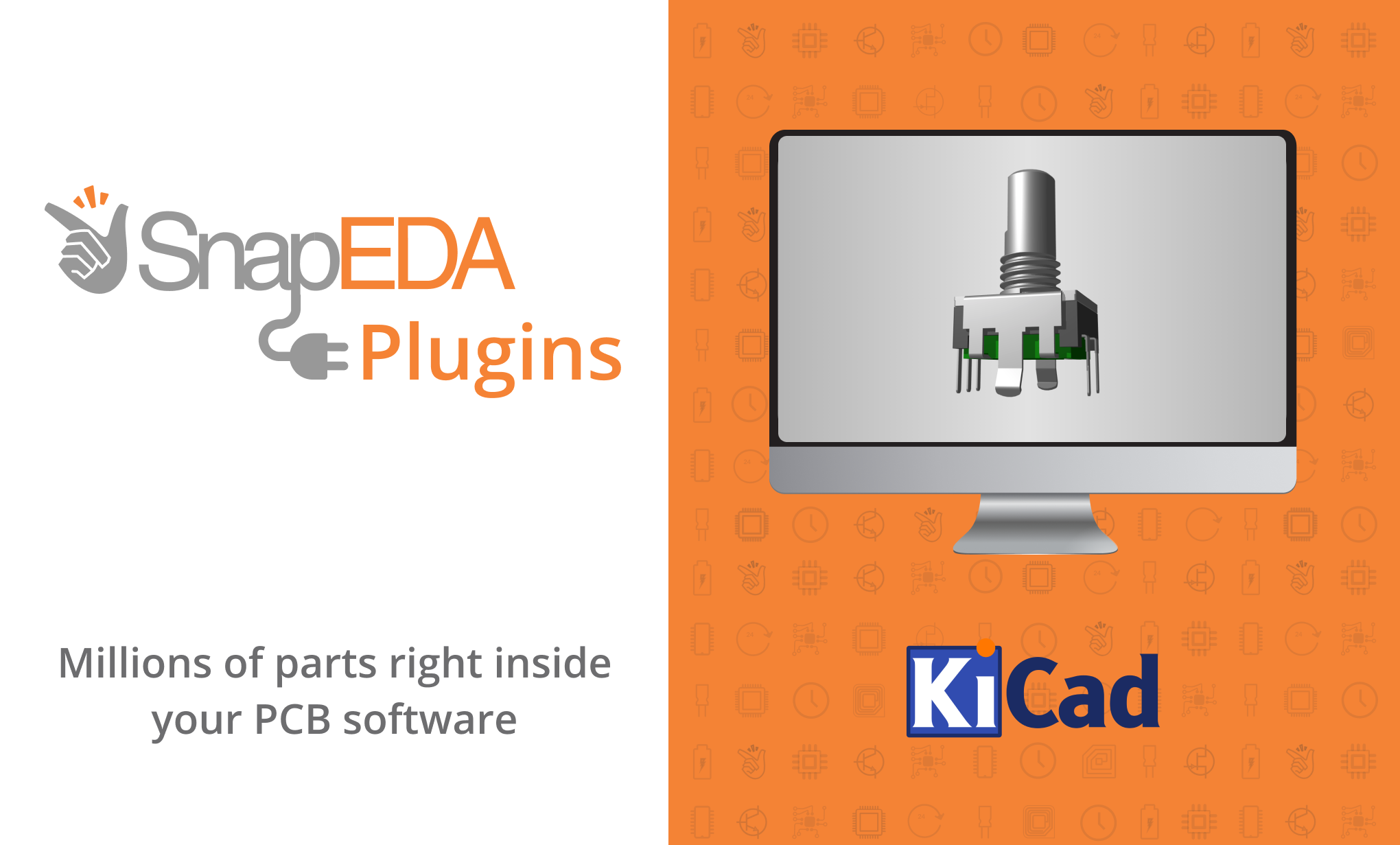 Introducing the SnapEDA KiCad Plugin
At SnapEDA, our mission from the beginning has been to help engineers design electronics faster by removing barriers.
In 2013, we launched our search engine devoted to electrical engineering CAD content (symbols, footprints, simulation models, etc.) with the hypothesis being that if we could provide engineers with the building blocks they needed to design electronics faster, they could spend more time designing and innovating the products that impact our world.
Flash forward to 2020. Today, we're grateful to serve over 1 million engineers each year, most of whom use SnapEDA at work. Over the years we've stayed true to our mission by releasing tools that improve the productivity of electronics designers, such as: InstaPart, our 24h symbol & footprint request service; InstaBuild, our free computer-vision based CAD model creation tool; and InstaVerify, our real-time CAD model verification checker (watch for updates on this front soon!).
All of these tools are aligned around our mission of helping engineers design faster.
Today, we're excited to announce a new offering from SnapEDA, that will make it even easier for engineers to access CAD content. We're releasing a new KiCad Plugin to allow engineers to search, discover, and download content for electronic components directly from within the software where they're designing PCBs.
KiCad is a free, open-source PCB design software that has been gaining popularity in the PCB design industry. Over the last few years, we've seen it growing at the same year-over-year rate as the industry's leading PCB tools in terms of design activity in our professional PCB design community. Specifically for KiCad, we've seen 345% growth of design activity over the last 3 years.
KiCad's ethos is to make electronics accessible and open. For that reason, it's also central to the open hardware movement.
Over the years, we've added millions of CAD models into the SnapEDA database, which are all accessible within the new plugin. Additionally, users will benefit from live updates to the SnapEDA library. Our Component Engineering team adds thousands of new components each week, which are synced with the plugin in real-time.
The plugin is free and can be downloaded at www.snapeda.com/plugins. It is available on Windows and Linux, with a Mac version coming in the future.
We will be continually developing the KiCad Plugin based on all of your feedback. Our intention is to continue working with the community to add the features you desire. If you are interested in providing your feedback, please email us (support@snapeda.com) and we'll get you all setup in our Slack community.
We hope you all enjoy and we're looking forward to your feedback.
Happy designing!
The SnapEDA Team