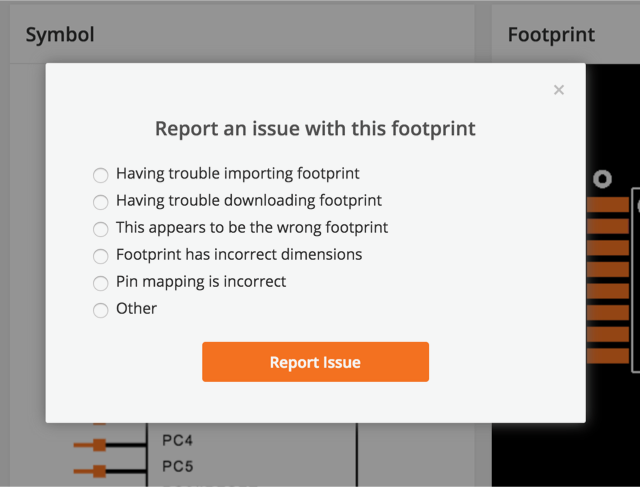 SnapEDA's New Issue Reporting System
We're happy to announce our new issue reporting feature for symbols and footprints. You can now report any issues you find and we'll be notified immediately. Here's how it works: On any part page, you'll notice the new 'Report' button under the symbol and footprint. Simply click on it to report an issue.
Upon clicking on 'Report', a dialog will appear for you to select the type of issue you wish to report. You'll have the option to explain the issue in detail upon selecting one of the options.
After reporting the issue, it'll immediately appear under the 'Issue' tab with the 'Open' status. Our team will immediately be notified and will investigate it as soon as possible. Issues posted by others will also appear here along with the status of the issue. This is a great way to be aware of what issues are currently open for a symbol or footprint.
Others are free to comment on your issue to provide additional insight. You may notice the status of issue change to 'In Progress' when we begin to investigate the issue and change to 'Fixed' once we fix it. You'll be kept in the loop via email during this process.