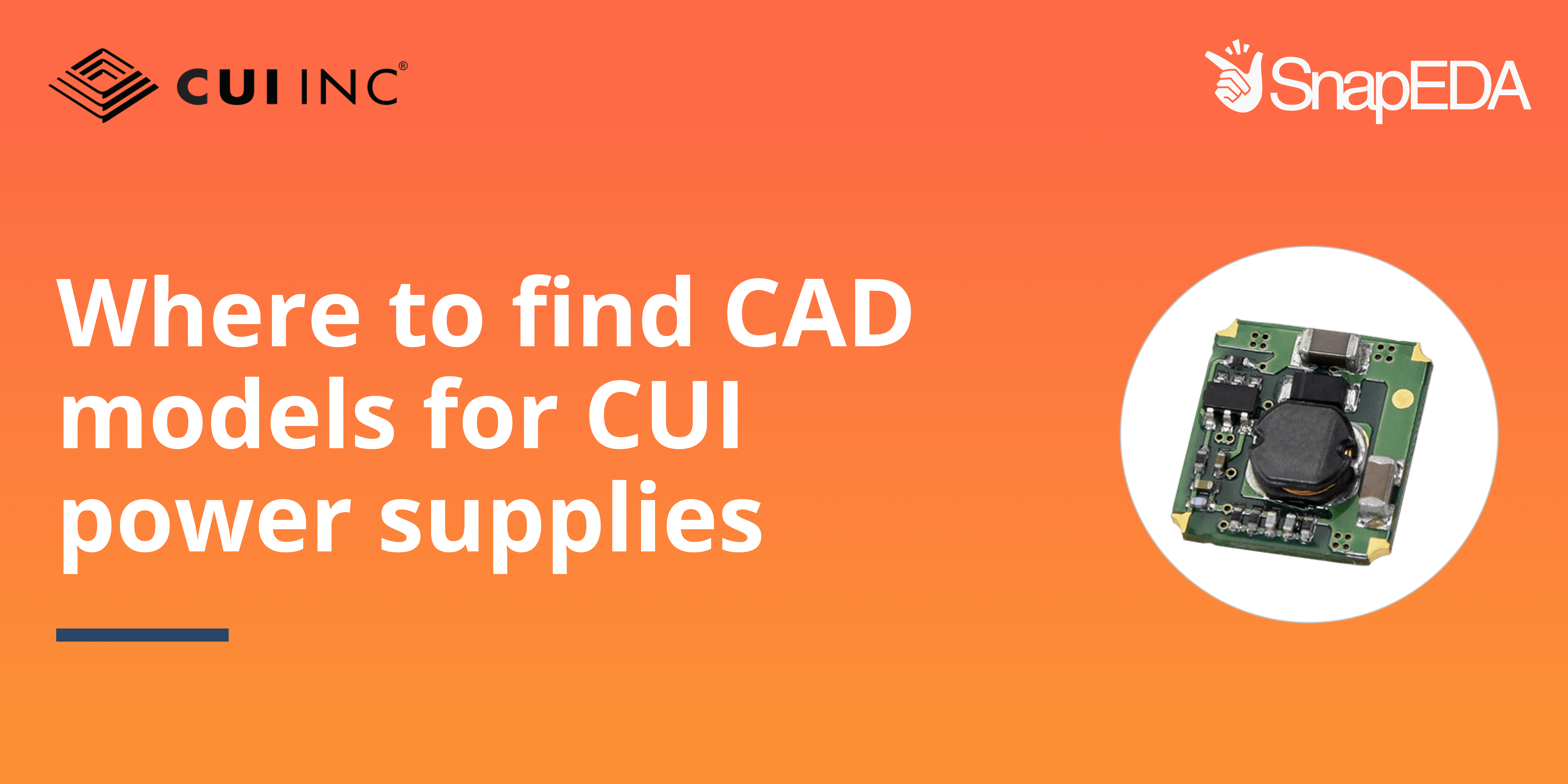 Where to find CAD models for CUI power supplies
Since 2018, CUI Inc. and SnapEDA have been collaborating to provide engineers with CAD models to accelerate their designs.
Known for their wide variety of power supply products and support, CUI has served tens of thousands of customers over the last 30 years. Part of the support they offer includes technical resources, such as CAD models for their products, including schematic symbols, PCB footprints and 3D mechanical models. 
Whether engineers are looking for DC-DC converters, AC-DC converters or other power supplies, they can find and download CAD models for these products on both SnapEDA's platform as well as CUI's website directly. These CAD models are available in over 15 printed circuit board (PCB) design formats, including Altium, Autodesk Eagle, KiCAD, and Cadence OrCAD.
Collaborating to provide supplier-approved models
Over the years, the engineering teams at CUI and SnapEDA have teamed up to ensure that the CAD models they produce reflect the manufacturing requirements of CUI's products.
All CAD models created by SnapEDA go through a rigorous verification process, both internally at SnapEDA as well as externally in collaboration with CUI's engineering team to ensure that engineers using CUI products can quickly ramp up to scale:
       1. The models are created based on standards pre-defined between CUI and SnapEDA.
       2. Each model is then created based on those standards by SnapEDA's Component Engineers
       3. Each model model is then verified by a certified SnapEDA Component Verifier
       4. Next, the models are verified with SnapEDA's patented automated verifier, which uncovers pitfalls that the human eye can't easily see.
       5. As the final step, the models are verified by CUI's engineers as a final check.
By working in collaboration with CUI, engineers have the confidence that these supplier-approved CAD models reflect the unique products that CUI offers.
Accessing SnapEDA Models on CUI.com
Finding CAD models on CUI.com is easy: 
        1. Go to the CUI home page (www.cui.com)
        2. Click Resources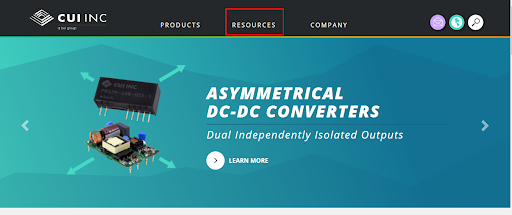 3. Click on the CAD Model Library web page
       4. Select the specific part by one of the following methods
               a.) Enter the part number in the search bar
               b.) Select the product from the pull-down menus on the left side of the screen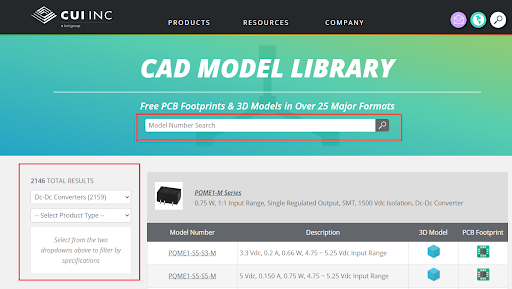 5. Open the CAD model by clicking on the icon

6. Select the CAD format and download the desired model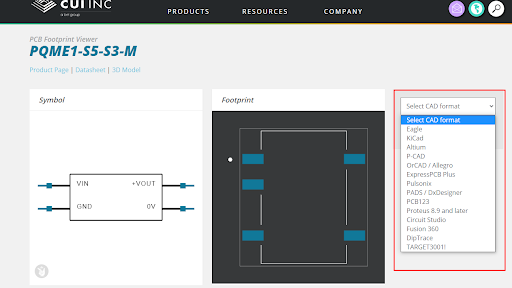 SnapEDA models can also be found on the CUI web page by going to the CUI product landing page (using the search bar, PRODUCTS menu, or Parametric Search menu) and selecting the 3D CAD model or PCB footprint from the lower section of the product landing page.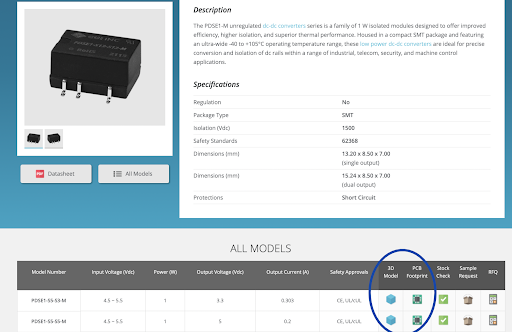 CUI's CAD models are also available on SnapEDA as well as over 35 SnapEDA partner platforms including Digi-Key, Mouser, RS Components DesignSpark, Autodesk Fusion360, among others.
From all of us at SnapEDA and CUI Inc., happy designing!