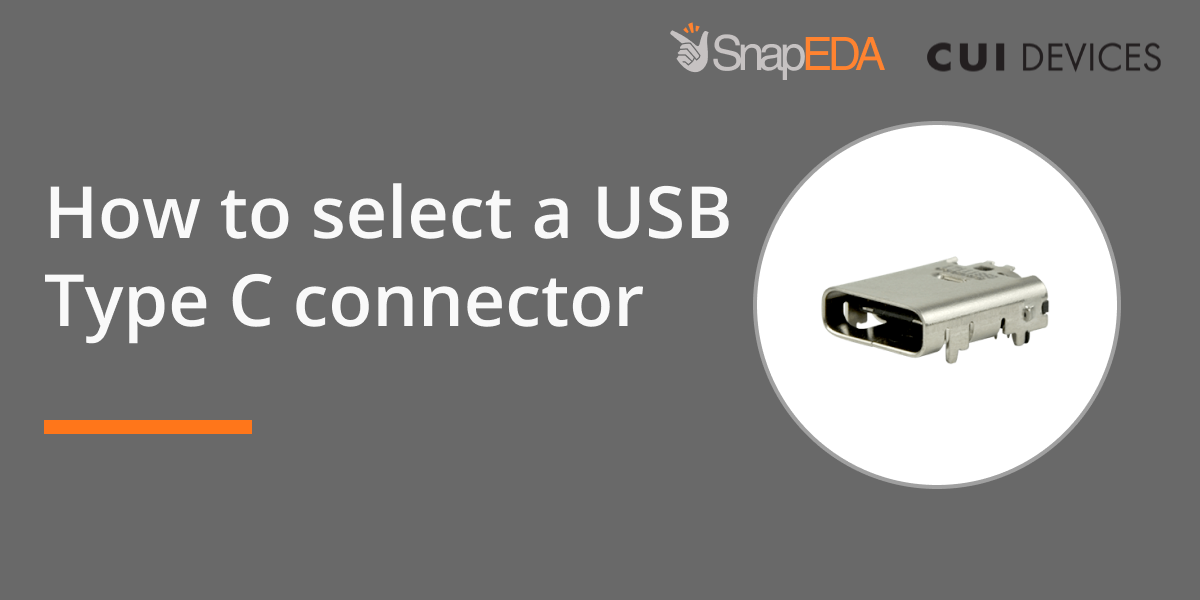 How to select a USB Type C connector for power applications
USB connectors were introduced in the mid 1990's and have since evolved in their size, shape, data and power transfer capabilities. Today, the latest physical standard is Type C, and besides greater bandwidth and being both bi-directional and reversible, this newest iteration is capable of significantly higher power transfer than previous generations.
We interviewed Jeff Smoot, VP of Engineering at CUI Devices, which offers a wide range of interconnect products, to learn best practices when selecting a USB Type C connector. Since joining CUI Devices in 2004, Jeff has revitalized the company's Quality and Engineering departments with an emphasis on developing, supporting, and bringing products to market.
Let's start with connectors in general. Which factors should engineers consider when selecting a connector for power applications?
The first consideration is how much power transfer your selected connector will need to support.
This will ensure that the chosen connector is properly specified to handle the maximum voltage and current ratings of your system so that damage to the connector and associated components does not occur.
Other considerations include the mounting style (through-hole, surface mount, cable mount, etc.), the required orientation within the application, footprint and size requirements, IP ratings, and more.
What factors should engineers consider when selecting USB Type C connectors specifically?
USB connectors, in general, are defined by three different, but associated standards: the physical connector, data transmission protocol, and power delivery.
The latest USB Type C standard defines only the physical connector, which can support data transfer speeds up to 20 Gbit/s as defined in the USB 3.2 data transmission standard and power delivery up to 100 W defined in the USB Power Delivery (PD) 3.0 standard.
Although heavily standardized, USB Type C connectors can still differ in their voltage and current capabilities as well as their data rates, so it is important to confirm that a connector's specifications match your system requirements. Additional considerations will again come down to mounting style, orientation, IP ratings, etc.
What are the benefits of using a USB Type C connector for power applications, as opposed to other types of connectors?
USB Type C has opened an exciting range of opportunities and benefits for power applications.
Along with their 16 data transfer pins, USB Type C connectors house 4 power pins and 4 ground pins that enable up to 100 W of power capability. This has made USB Type C a viable option for many applications needing higher amounts of power and can allow it to replace a standard DC power connector even when data transfer is not required.
The largest benefit of using USB as a method of power delivery is standardization. USB connectors have become ubiquitous and the convenience of utilizing a single, off-the-shelf cable type for many different products is extremely enticing to an end-user. OEMs also benefit from a stable supply chain as USB connectors are simple to find and their standardization assures a level of interoperability. This simplified design integration is also backed by a smaller package size than many barrel connectors as well as high reliability and longer life with a 10,000-mating cycle rating.
Are there any limitations when using USB Type C connectors?
Every connector or component is going to come with its own set of advantages and limitations. When it comes to USB Type C connectors and their 100 W power transfer limit, USB Type C connectors are simply not an option for applications requiring more than 100 W of power. In addition, USB Type-C's standardized footprints are beneficial in a wide range of scenarios, but there may be instances where other package types or orientations are required. This means that dc power connectors and more customizable power delivery options still have their place.
How are CUI Devices' USB connectors unique in the market?
CUI Devices has developed power-only USB Type C receptacles for designs where charging or power delivery is the sole function. Our 60 W power-only USB Type C receptacle removes the 16 data transfer pins and 2 of the ground pins, leaving only 4 power pins and 2 ground pins, while our 100 W version keeps all 4 power and ground pins for a total of 8 pins.
By removing the 16 data contacts, the simplified design of the connector leads to a significant cost reduction with only 6 or 8 contacts compared to a standard 24-contact USB Type C.
This not only reduces the part cost, but it also decreases the complexity and failure rate with fewer contacts and associated solder joints to fail. While these are unable to be used for transferring data, they work with any standard USB Type C cable that transfers both data and power, so there are no additional steps or hardware needed by the end-user when interacting with the product.
Is there anything else you'd like to share?
At CUI Devices, we strive to simplify the design process for engineers with a wide range of resources and tools. Engineers can find more connector tips and tricks in our Resource Library which contains a variety of blog posts, videos, and technical papers.
Additionally, engineers can download all of our PCB footprints and symbols via SnapEDA, including the UJC-HP-3-SMT-TR and UJC-HP-G-SMT-TR power-only USB Type C receptacles mentioned above. These vendor-verified CAD models save time and provide peace of mind during the product design phase.
Thank you for your insights, Jeff.
Thank you.