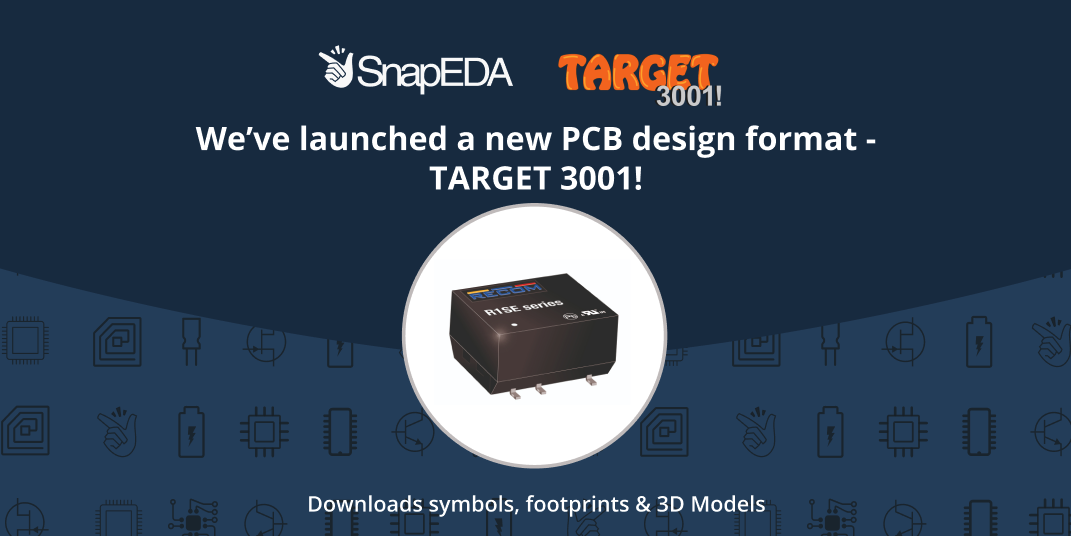 We've launched a new PCB design format – TARGET 3001!
We've recently launched TARGET 3001! as our latest PCB design format.
This new format allows engineers to download and import the symbol, footprint, and 3D model for the part they need in one click, allowing them to easily create PCB layouts, circuit diagrams, and 3D design rapid prototypes.
Why TARGET 3001!
German PCB CAD software development programming firm Ing.-Büro Friedrich released TARGET 3001! for professional designers and engineers who prefer a simple yet fully functional CAD tool for circuit design and mix-mode simulation.
TARGET 3001! is compatible with Windows and features schematic capture for easy designing, 3D views, integrated (P)SPICE compatible mixed-mode simulator, and a package design generator.
The software traces its roots to a DOS-based program called RULE for PCB layout. They later renamed the software to TARGET 2001! and then again to TARGET 3001! after the developers realized the term "TARGET 2001!" would sound obsolete in the years to come.
The company also launched its component cloud in 2016 to assist its user community. Because of these changes, it slowly earned the attention of the design and engineering community.
To celebrate the 30th anniversary of the founding of the company, version 30 or V30 of the software was released this year. Its improved features include the Pilot Router, interactive meanders, step model optimization, signal classless spacing, and a sidebar with components.
Ing.-Büro Friedrich also offers consistent upgrades, tool manuals, and sample programs through its large parts library, and access to the component database.
It is also capable of generating HP Graphic Language (HPGL) files that are perfect for CNC routers that contain mill-printed circuit boards.
Who uses TARGET 3001!
TARGET 3001! counts TOYOTA as one of its largest users. The car manufacturer's electronics development engineers designed the cable harnesses of their Formula One racing car using the software.
They simulated the electromagnetic compatibility of the wires against the car's performance.
Today, TARGET 3001! users can take advantage of its 3D-STEP models and interactive meandering features. With this design suite, schematic, simulation, PCB, front panel, 3D view are all in one program and in one project file.
Why SnapEDA Chose TARGET 3001!
To complement the user experience, SnapEDA has made it convenient to search for parts, download them in one batch, and then easily drag and drop parts to a TARGET 3001! design.
The CAD data is then added to your TARGET 3001! component database to allow you to work on more projects.
This saves users time when building complex components and prevents errors that can come up when building part models that contain unique pin patterns.
How to Download Symbols, Footprints and 3D Models
To download symbols, footprints, and 3D models all at once, follow the steps below:
Step 1.
Open your project schematic in Target 3001!.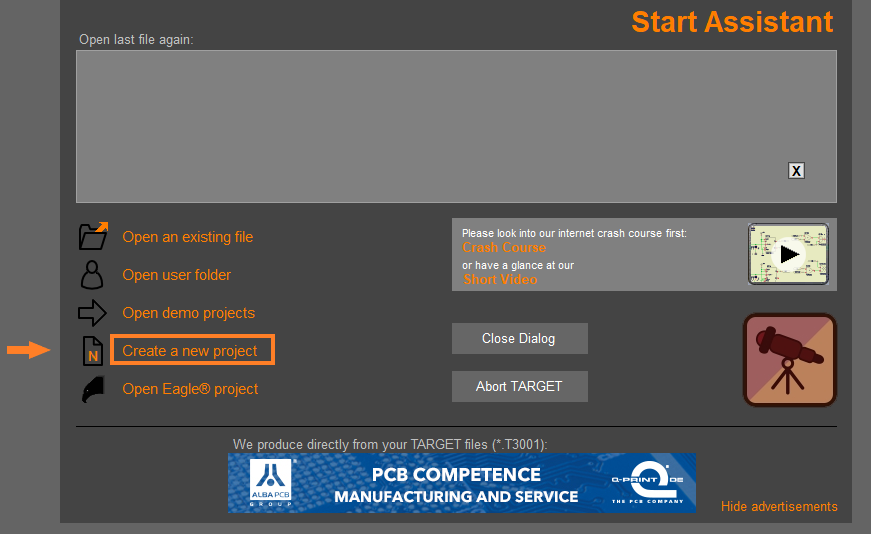 Step 2.
Click the Insert key on your keyboard to open the component database and search for the part you need. Then, click on the SnapEDA button.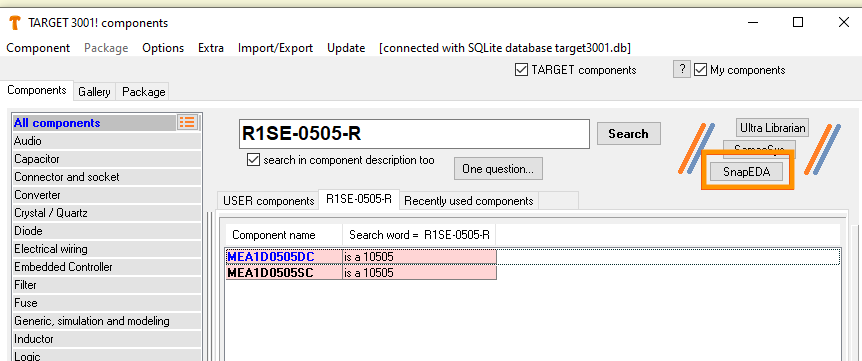 Step 3.
You will be referred to the SnapEDA website where you can select the part. Click on the Download Symbol and Footprint button.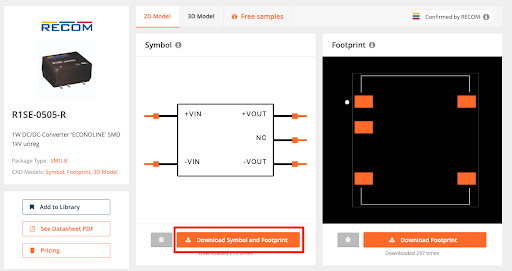 Step 4.
Select TARGET 3001! from the list.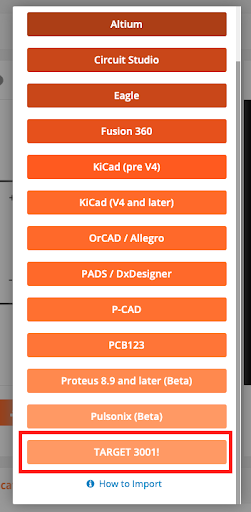 Step 5.
TARGET 3001! monitors your Downloads folder and will automatically detect the downloaded file.
Step 6.
The component will appear right on your cursor and you can place it in the schematic immediately.
It's as simple as that! You've now downloaded the files you need to get back to innovation using TARGET 3001!. 
Pro tip: You can check all the imported libraries into your Target component database for future use.
Happy designing!