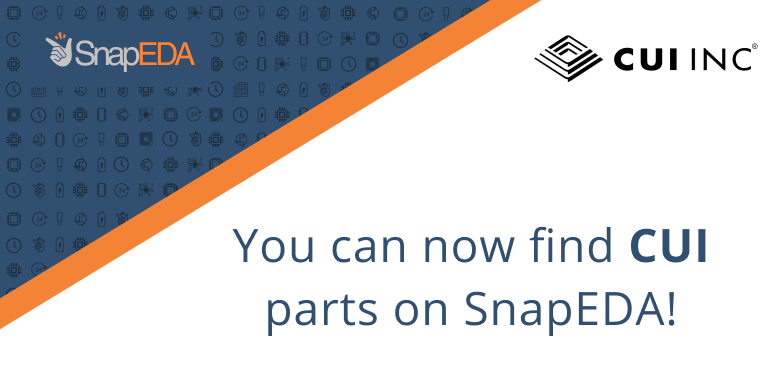 Announcing a new PCB library for CUI components
Today we're launching CUI's catalog of buzzers, speakers, microphones, and connectors on SnapEDA, as well as on CUI's website via our plugin.
CUI is a leading electronic components manufacturer with a broad range of board mount electromechanical components. With this new collaboration, designers will be able to drag-and-drop interconnect, audio, and motion parts libraries into their designs.
We all know that creating symbols and footprints for a design takes time, and this is especially true for electromechanical components, which often have cutouts, and other elements that are non-standard. This process can cause delays in getting a product to market, while mistakes in footprint creation can even result in costly errors and weeks of lost time.
With this partnership, hardware designers will be able to prevent footprint errors and design smarter, thanks to a library of verified PCB footprints and symbols readily available in all major CAD formats, including: Altium, Eagle, KiCad, OrCAD/Allegro, PADS/DxDesigner, and PCB123.
The files are free to download from CUI's CAD model library and product pages, or via the SnapEDA website, where they can then be placed directly into a product's design.
This also marks the launch of our first visual symbol & footprint plugin available for component vendors to use on their own websites! We'd love to know what you think of this new collaboration and how we can further improve the lives of hardware designers, and help component vendors better support their products. If you have any ideas, please let us know in the comments!