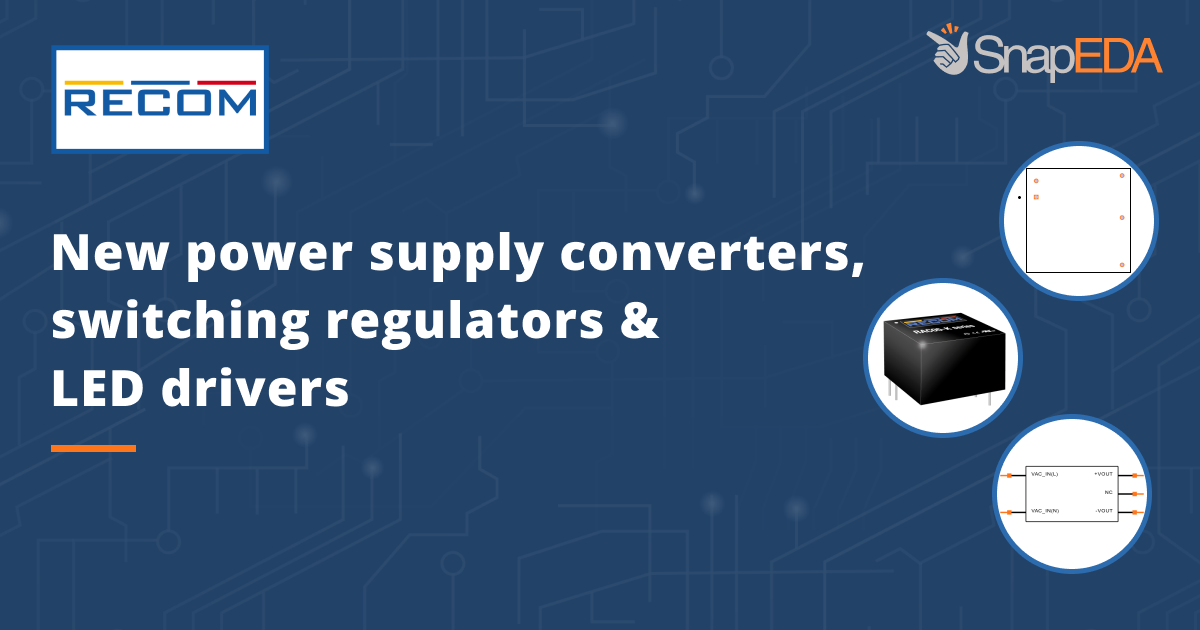 Over 20,000 new power supply products from RECOM now on SnapEDA!
We are excited to announce that we have collaborated with RECOM Power to launch their entire product catalog of over 20,000 parts on SnapEDA.
You can now access a large selection of DC/DC converters and AC/DC power supplies, LED drivers, and switching regulators from RECOM Power, which come complete with symbols, footprints and 3D models. This will allow engineers to save time by giving them the building blocks needed to jump straight to design.
RECOM Power is a leading power supply manufacturer that specializes in developing the latest converter technology in a power range of 0.25W to 960W. RECOM Power has over 45 years of experience in manufacturing compact power supplies, which are compliant with international safety standards and the latest certifications.
At SnapEDA, we help you save time by providing quality symbols and footprints for easy integration with your design, rather than you having to make them from scratch. This allows you to shift your focus to designing your product. You can use SnapEDA to discover the building blocks for your designs, and when you're ready, simply drag-and-drop into your designs.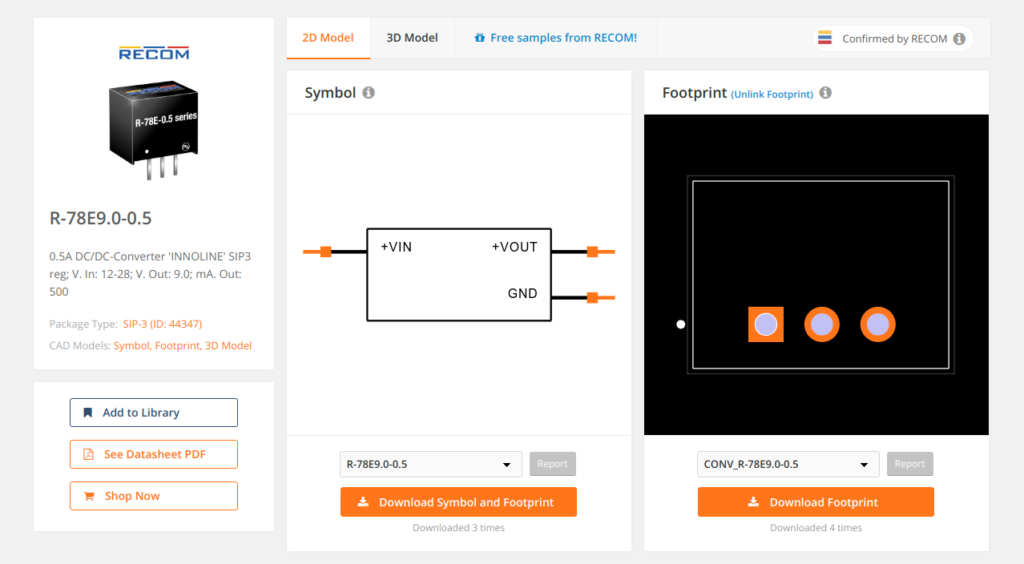 The new symbols & footprints made here at SnapEDA will ease the integration of RECOM's products into your designs. Whether you are designing electronics for measurement technology, industrial automation, energy technology, medical electronics or IoT applications, RECOM's products are recognized for their compactness, robustness, and compliance to industry standards.
Some featured product series in RECOM's catalog include:
• RAC05 – AC/DC converters, capable of 480VAC in a 1" x 2" package. View sample symbol and footprint
• RPM – DC/DC SMD switching regulators, with a DOSA footprint and 99% efficiency rating. View sample symbol and footprint
• RBB – DC/DC buck/boost compact switching regulators, with a 95% efficiency rating and 7µA standby power consumption. View sample symbol and footprint
• REM1/REM2 – Internationally certified 1W-2W medical-grade DC/DC converters in SIP7 & SIP8 packages. View sample symbol and footprint
We created these symbols and footprints based on recommended land patterns from RECOM Power. All symbols & footprints on SnapEDA are available to download free.
Start exploring on SnapEDA now.
Happy designing!