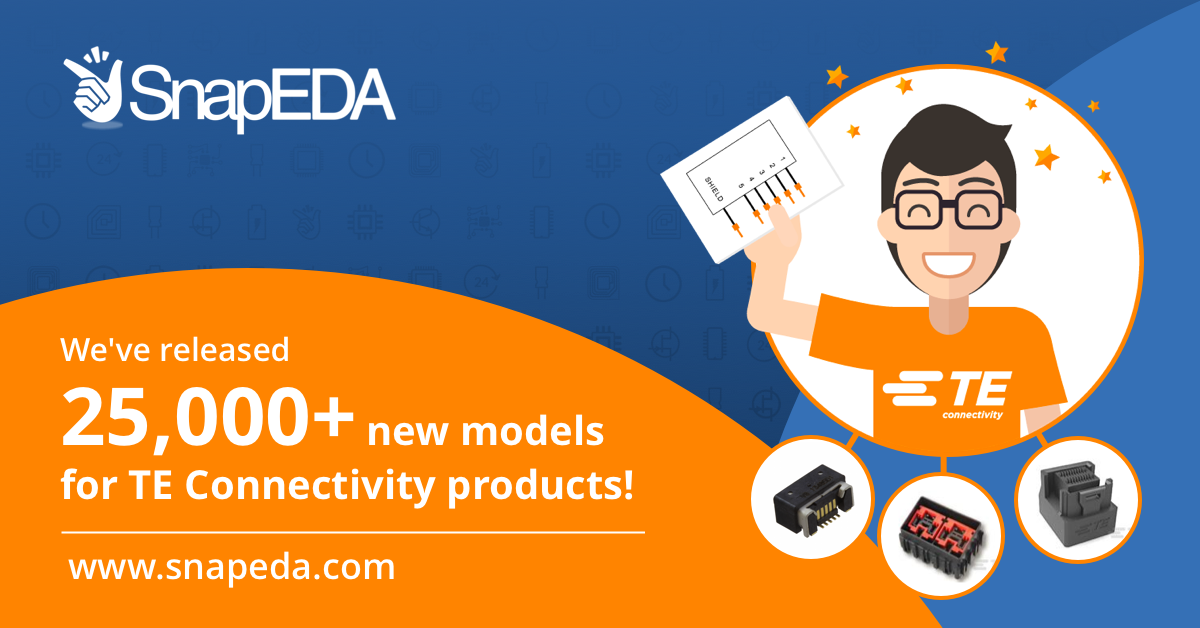 We've released over 25,000 new TE Connectivity symbols & footprints on SnapEDA!
Today we're excited to announce a new collaboration that should put a smile on the face of any designer who has ever made a connector footprint from scratch. We're launching support for over 25,000 TE Connectivity (TE) products on SnapEDA!
Decrypting complex computer-aided design drawings, and translating those into the schematic symbols and printed circuit board (PCB) footprints needed for a design is a time-consuming process, which can take hours for a single component alone.
With this new collaboration, designers can now simply search and download ready-to-use models instantly, saving days of time and allowing them to focus on product optimization and innovation.
These components include a wide range of connectors — such as USB, flexible printed circuit, modular, mobile battery, terminal, and jack connectors — as well as sensors, fuses, switches, relays, DC-DC converters, thermistors, resistors, and diodes.
The models are compatible with Altium, OrCAD, Allegro, Eagle, PADS, DXDesigner, and KiCad.
TE is a $13 billion global technology company, and world leader in connectivity and sensor solutions. Their products have been proven in the harshest of environments, and are used in a wide variety of industries and applications.
You can browse the library of TE Connectivity products on SnapEDA here.